So I've decided to do something new on my blog and let my couples tell you about themselves.  It also helps me to get to know them so much better before their weddings!  I love hearing about my couples love stories!
Reed's Version: Brook is truly the love of my life.  I was so fortunate to be golfing and have her father join us as a solo golfer.  I am sure it was my good looks and charm that won him over that day. I know it was not my golfing! towards the end of the round he gave me his daughters phone number and explained how wonderful and amazing she was. He told me to look her up on the internet and I would see this for myself. I did just that and WOW! she was all that and more. I was a bit nervous but one morning at 7:13 in the morning I felt the urge to text her. We planned a date and then I saw her at a birthday party where I was immediately taken in by her beauty and her wonderful smile. I followed her all around that party just to have many opportunities to talk with her. I left happy knowing I was going on a date with her soon. The date was so much FUN. it led to another then another and by the 3rd date I Kissed her. Woot woot. Brook you are an amazing kisser and I love you soooo much. I know you will change this so that we have something good to send in but remember I LOVE YOU FOREVER. I am so excited to marry you and be your husband. MINE
Brook's version:  (I DID NOT change anything from the above Reed's version.  LOL!)
My dad is an avid golfer and has long been joking about arranged marriage as a great idea.  One day golf and arranged marriage collided.  My dad was playing his front 18 holes on the golf course one morning–most players designate their "front 9 holes" or their "back 9," but my dad was playing his morning "front 18″ to be followed by a "back 18″ with his friends.  This first round of golf was his warm up round and so he went by himself and was placed with two other men for the round. My soon-to-be husband's friend had a BYU logo on his golf bag which lead to sporting, religious, and eventually life circumstances conversation.  My dad learned that my soon-to-be husband was divorced and his wing man sold him on his many (many) great qualities.  Reed is a man of character, honor, integrity, spirituality, passion, intelligence, education, and hard work. And, he chose a good wing man that day to brag on his behalf so my dad came to understand these qualities quickly.  By about the 16th hole, my dad had all but given his blessing and my phone number to Reed, unbeknownst to me.  I received a text from my dad informing me of this and a week later I finally heard from Reed.  Luckily we had many friends in common who gave me great report, otherwise, Reed and I may have never met.  Because he is such a great guy, many people were attempting to line him up.  We are giving my dad credit for an arranged marriage, and Reed has found a way to legitimize golf forever since it lead to our eternal love story.  I am a happy woman, indeed!
Vendors: Catering— Lion House.  No cake, flowers by Flowers Squared, our sons will be our informal videographers.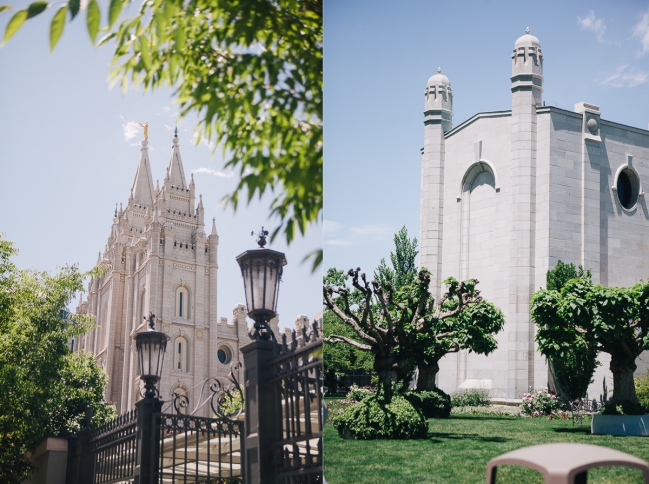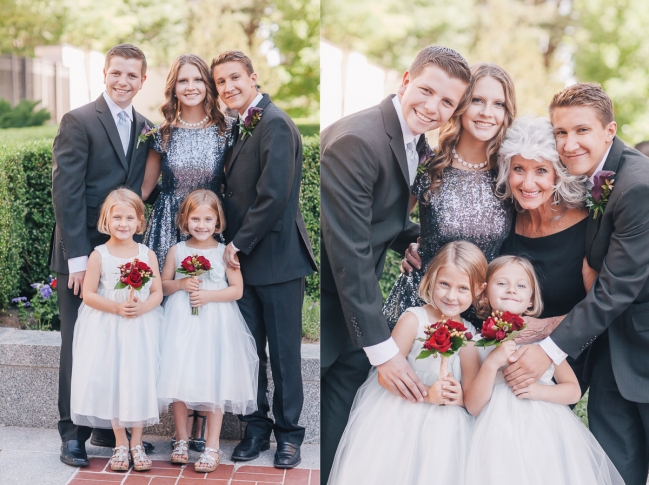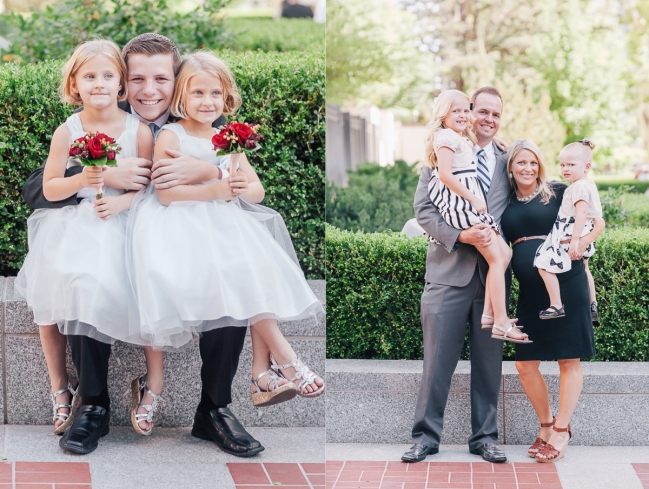 utah wedding photographer photographs in historic downtown salt lake city.  the downtown setting is the perfect mix of classy and modern bridal photos. if you are looking for a perfect fit when looking for wedding photography look into ravenberg wedding photography.  I have been photographing wedding for more than five years.  I love what I do and I love to photograph beautiful brides full of whimsical ideas and put them into motion for their weddings.  If you are getting married in salt lake city Utah I would love to be your wedding photographer. Ravenberg wedding photography specializes in natural, classic, and beautiful imagery.  Invested to get you the best images from your wedding day. I love salt lake city temple weddings!  I would love to be your photographer for your salt lake city wedding! I love the lion house and it's stunning weddings!